Deposit and Withdrawal in Satbet
At Satbet, we provide a first-class gaming experience with many exciting games and bonuses. As the online gambling industry evolves, Satbet meets the customers' needs by providing a range of safe and convenient payment options. Here we explain deposit and cash-out options for 2023 and outline the most popular methods for funding your account and withdrawing your winnings.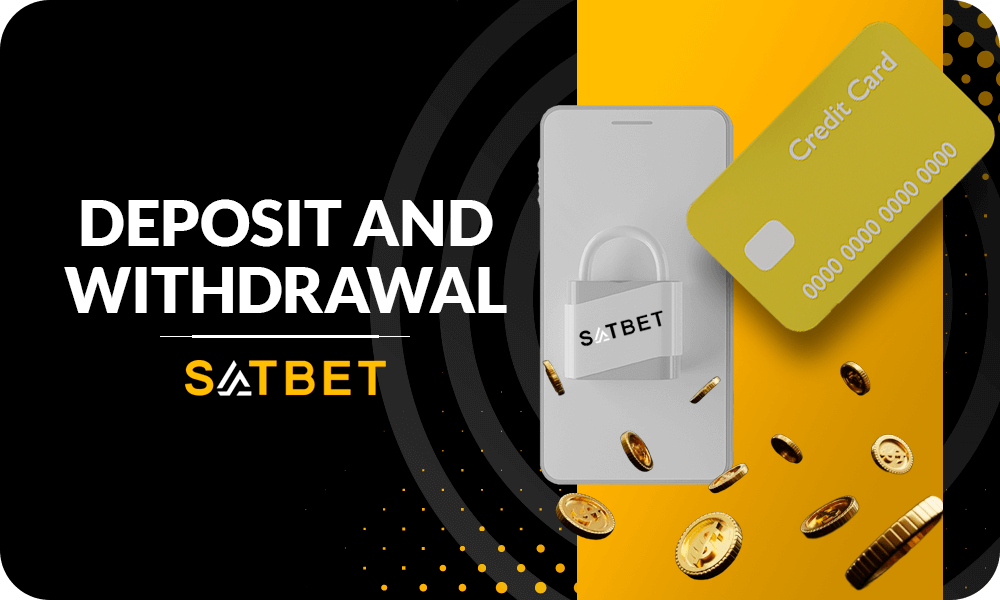 Satbet Deposit Methods
To deposit at Satbet, create a Real Money account and select your preferred currency. We partner with reliable payment services such as NetBanking, AstroPay, CashPay, Skrill, and Neteller for deposit options.
In addition to the payment services mentioned above, Satbet also offers other convenient payment options:
Bank transfer;
Paytm;
PhonePe;
Google Pay;
UPI;
JET cryptocurrency;
Bitcoin;
Visa and MasterCard.
These payment methods provide flexibility and ease of use, making it easy for players to deposit and withdraw funds as needed.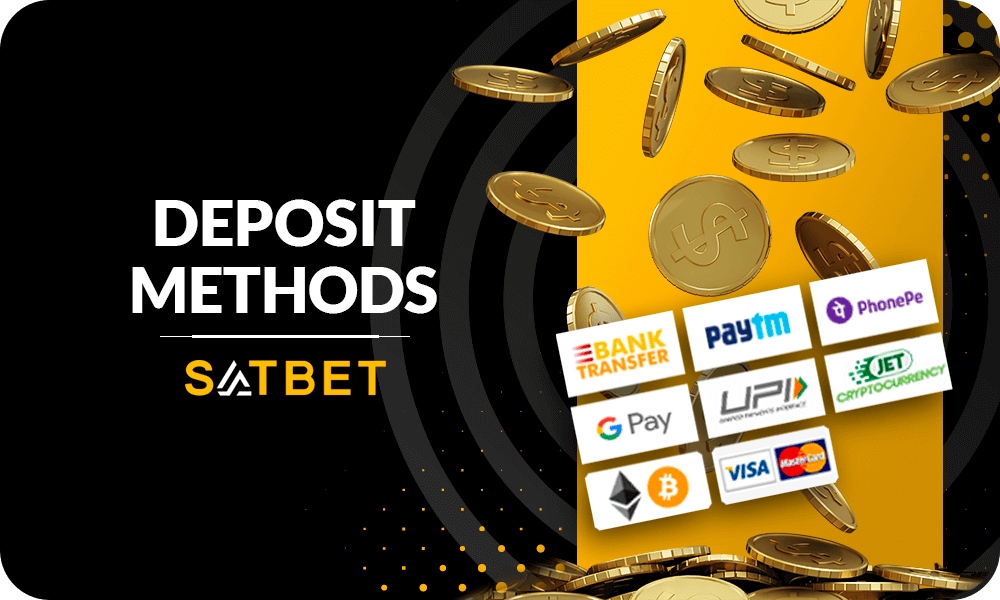 Instructions to Deposit
The minimum required deposit amount is 500 INR, without a maximum limit. Deposits are processed instantly, so you can start playing your favorite casino games immediately.
To make a deposit, follow these steps:
Log in to your Satbet account using your username and password.
Click on the "Banking" button in the menu.
Select your preferred payment method from the list of available options.
Enter the information required by the payment method you have chosen. These include the amount you want to deposit and your payment card details.
Follow the on-screen instructions to complete the transaction.
Once the transaction has been processed successfully, your account balance will be updated to reflect the deposit.
Satbet takes security seriously and uses advanced encryption technology to ensure your transactions are safe and secure.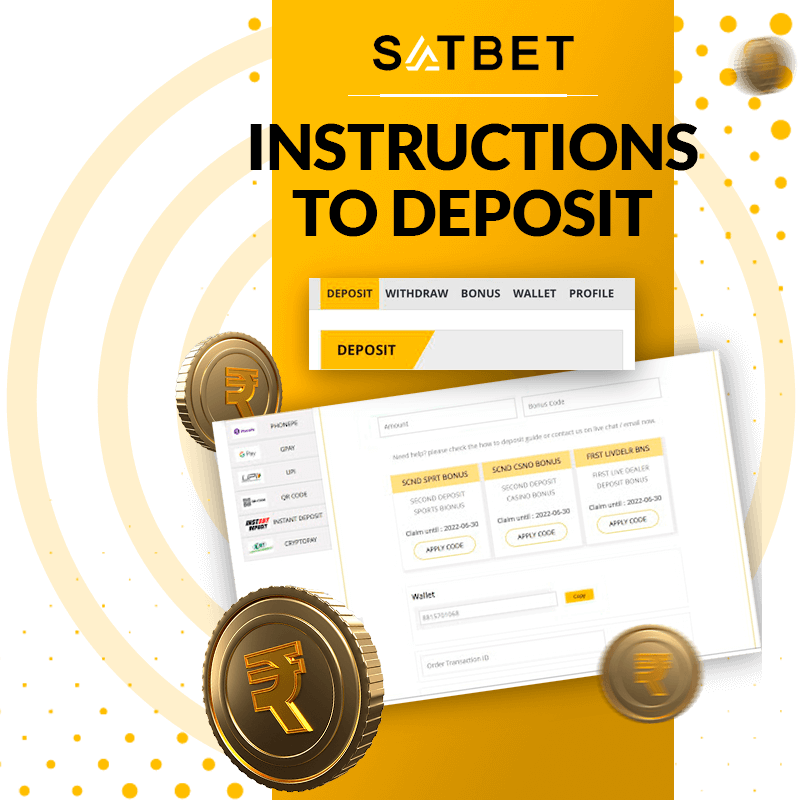 Withdrawals Methods
Withdrawing your winnings at Satbet is straightforward. The partners are the same as with deposits, though limits differ: the minimum amount is 1000 INR, while the maximum is ₹1 lakh.
| Payment Method | | Min | Max | Credit | Free of Charge |
| --- | --- | --- | --- | --- | --- |
| Net Banking | Deposit | 500 | No limit | Instant | Yes |
| | Withdrawal | 1000 | 100,000 | Instant | Yes |
| AstroPay | Deposit | 500 | No limit | Instant | Yes |
| | Withdrawal | 1000 | 100,000 | Up to 4 hours | Yes |
| CashPay | Deposit | 500 | No limit | Instant | Yes |
| | Withdrawal | 1000 | 100,000 | Instant | Yes |
| Skrill | Deposit | 500 | No limit | Instant | Yes |
| | Withdrawal | 1000 | 100,000 | Up to 4 hours | Yes |
| Neteller | Deposit | 500 | No limit | Instant | Yes |
| | Withdrawal | 1000 | 100,000 | Up to 4 hours | Yes |
If you want to cash out, select your preferred payment method and enter the relevant information as prompted.
Instructions to Withdraw
Below are step-by-step instructions for withdrawing your winnings at Satbet:
Log in to your account and press the "Withdrawal" button in the Banking section.
Select your preferred money retrieval method from the list of available options.
Enter the amount you want to withdraw and provide any necessary details for the payment method.
Review the details and confirm your request.
Your order will be processed, and the funds will be transferred to your account using the method you have chosen.
Once your withdrawal request is through, you will receive funds in your chosen account or wallet. Remember that some services may take a longer time to process the payment.
Withdrawal Conditions
To ensure that all transactions are safe and secure, we have set certain withdrawal conditions that users must follow when requesting a refund:
You can cash out any or all of the funds in your account within the transaction maximums outlined on the Satbet website. Please note that fees may apply as stipulated in section 6.2.
Withdrawals must be made in the currency of your account unless otherwise specified by Satbet.
To maintain the highest level of security and prevent fraud, Satbet reserves the right to request documentation for identity verification before approving any withdrawal requests.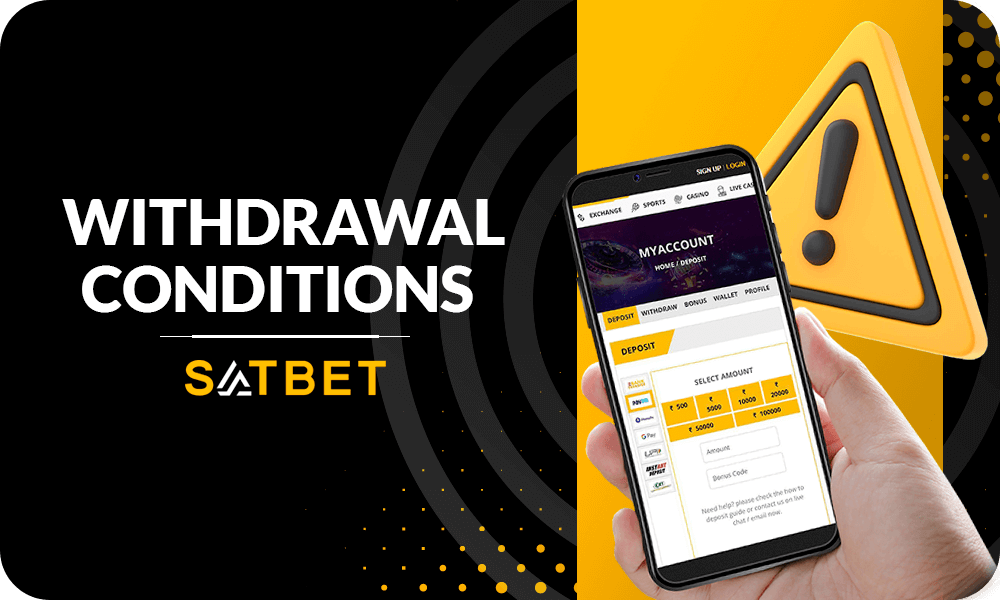 FAQ
Can I use multiple currencies in my account?
We do not accept accounts with multiple currencies. Your account balance and transactions will appear in the currency you selected when opening your account.
Can I get credit to use the Satbet service?
We do not offer credit for using our service. You play with funds that are available in your account.
How secure are payments?
We use advanced encryption technology and trusted payment partners to ensure that the security of the data is intact.
What can I do to protect the security of my funds at Satbet?
We recommend taking the following steps to protect the security of your funds: Use a strong passcode and change it regularly. Never share your login information or password with anyone. Only use trusted and secure devices and networks to access your account. Regularly review your account activity and report any suspicious activity to our customer support team.