A Comprehensive Guide to SatBet Terms and Conditions
The "Terms" comprise these agreement terms as well as the documents referenced and linked below. Together, they outline the guidelines for how the "Service" will be offered to you, including the "Website" found at www.Satbet.com and any associated facilities.
Please carefully read these conditions as they constitute a binding contract between us and you, our customer (the "Customer"). You agree to be governed by these agreement terms and any amendments that may be published from time to time by setting up a profile (the "Account") and using the Product. Please get in touch with us using the data supplied below if anything seems unclear to you.
Blue Sapphire N.V., a company with limited liability registered under the company registration number 149875 in Curacao, provides the Service. The head office of the company is located at Heelsumstraat 51, Orionweg 5 C, Curaçao.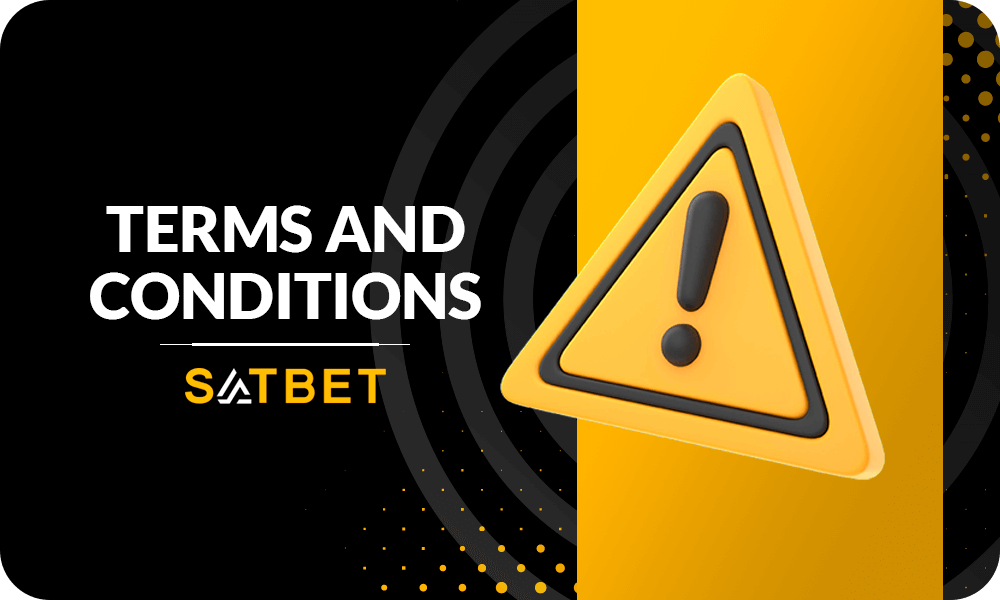 Your Profile
In this section you can read the terms and conditions that apply to your SatBet account:
Multiple currency profiles are not permitted by us.
We are entitled to terminate or cancel your Profile and return any funds held if we have cause to suspect that you are not abiding by these Rules.
We are entitled to cancel a Profile immediately and refund all monies.
Any wager may, at any time and for any reason, be rejected, restricted, canceled, or limited, including any wager that appears to have been made deceitfully in an attempt to circumvent our betting limits and/or system regulations.
If any money is unintentionally credited to your Profile, it still belongs to us. If this happens, we'll let you know and take the money out of your Profile.
Deposits to Your SatBet Profile
Any of the ways listed on our website can be used to put money into your Profile. All payments must be made in the same currency as your Profile; otherwise, you are solely liable for the conversion rate and we are entitled to convert the amount at our discretion. Deposits in any other currency than the one associated with your Profile are not permitted.
Financial operations that clients make may be subject to fees and charges. Details on fees and charges are available at https://www.Satbet.com/payment-options.
Credit and debit card deposits are processed by a third-party electronic payment processor, not by SATBET, which is not a financial institution. Your Profile will only be credited if we get approval and an authorization number from the institution issuing the money when you make a credit card or debit card deposit. If the issuer of your card declines to grant this authorization, the associated money will not be debited to your Profile.
Withdrawing Funds from your SatBet Profile
According to the transaction maximums listed on the website at https://www.Satbet.com/payment- choices, you may withdraw part or all of your Profile balance.
Unless otherwise specified by us, all withdrawals must be performed in the currency of your Profile. Before authorizing any withdrawals from your Profile, we have the right to require proof for identity verification. Throughout the course of your engagement with us, we are also entitled to ask for these documents.
Your Rights
Provided that you comply with these rules, we give you a non-exclusive, restricted, non-transferable, and non-sub-licensable license to use and access the Product for your personal and non-commercial use only. This license ends if our agreement with you under these rules is terminated.
Except for your own content, you are strictly prohibited from modifying, publishing, transmitting, transferring, selling, reproducing, uploading, posting, distributing, performing, displaying, creating derivative works from, or in any way exploiting the Product and/or any of its content or software, unless explicitly allowed by us in these Terms or elsewhere on the Website.
Failure to comply with this Clause may constitute a breach of our or third-party intellectual property and proprietary rights, which could result in civil liability and/or criminal prosecution for you.
Objections
Please send an email to support@Satbet.com to our client service team if you have any issues or complaints about these Terms.
In the event that a customer is dissatisfied with the settlement of a bet, they should email our Client Service Department at support@Satbet.com with details of their complaint. We will make reasonable efforts to respond to such inquiries within a few days, but we aim to address all complaints within 28 days of receipt.